Your deck is an important part of your home exterior, and you want to make sure it is always looking its best. After all, this is a place where you can entertain family and friends, host parties and get togethers, or simply sit outside and enjoy the beauty that surrounds you.
But with all that time spent on your deck, it will eventually show signs of wear over time. Foot traffic, spills, and daily exposure to the weather can mean lingering streaks and stains, as well as the spread of invasive organic growth on your wood deck.
Before the damage spreads, call our team today at That's A Wrap to learn about our professional deck cleaning services in Long Island. With biodegradable cleaning solutions and proven power washing techniques, our team of experts can help clean and revitalize your deck fast, allowing you to get back to enjoying it as soon as possible.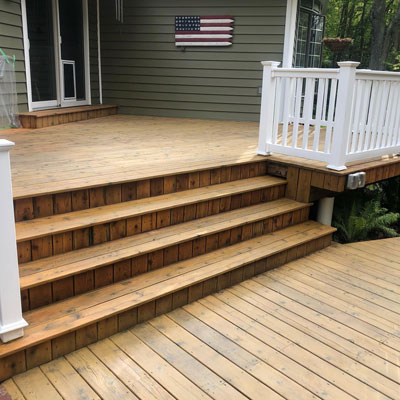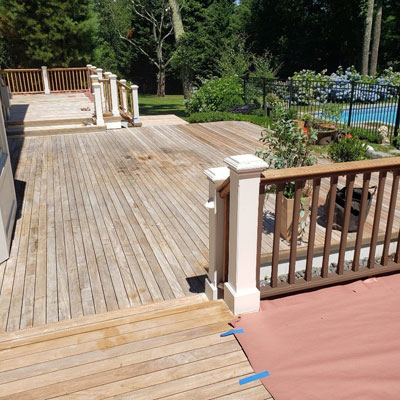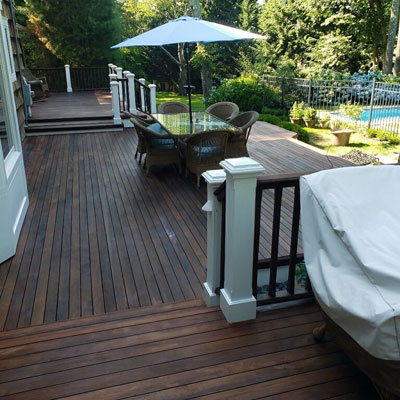 Deck Washing
When you schedule your deck washing service with That's A Wrap, our team will handle the entire process from start to finish, taking the worry and stress off your shoulders. We provide free estimates on all cleaning services, and our team will offer their best recommendations based on your needs and the extent of dirt and damage to your wood deck. We serve Mount Sinai and the surrounding area.
We treat the wood with specially formulated cleaning products, guaranteed to remove organic growth such as algae and mold. This service is important not only for the look of your wood deck but for the overall quality and longevity of the deck. When organic growth is allowed to spread unabated, it will quickly eat away at the wood, leaving you with costly repair and replacement projects.
Our deck cleaning service eliminates this problem, adding years to the life of your deck while making it look clean and fresh once again. After cleaning, our specialists also add a brightener that is designed specifically to balance the pH levels of the wood as well as restore the natural tannins. As a result, your wood will look not only clean but new.
Power Wash Deck
Using expert power wash technology and the best tools in the industry, our team will provide fast and effective deck cleaning services on a schedule that works for you. We proudly serve homeowners throughout Suffolk County and Nassau, and we are available today to begin the process of cleaning your deck. By using proven low-pressure soft washing techniques, we ensure that your wood deck is bright and clean without scarring the wood itself.
When you are searching for the best deck cleaning, call us today at That's A Wrap. Our team is here to help you with a variety of deck washing services.