Pavers are easy to install and create a beautiful driveway and patio, but time can take its toll. The pavers can start to look weathered and crack if they weren't sealed when installed. Sealing creates a barrier between the paver and the environment that helps keep them intact and looking new. Do you have older pavers that aren't looking as good? Call That's a Wrap, a paver sealing company, on Long Island, NY, serving throughout in Suffolk and Nassau counties.
Paver Sealing in Long Island NY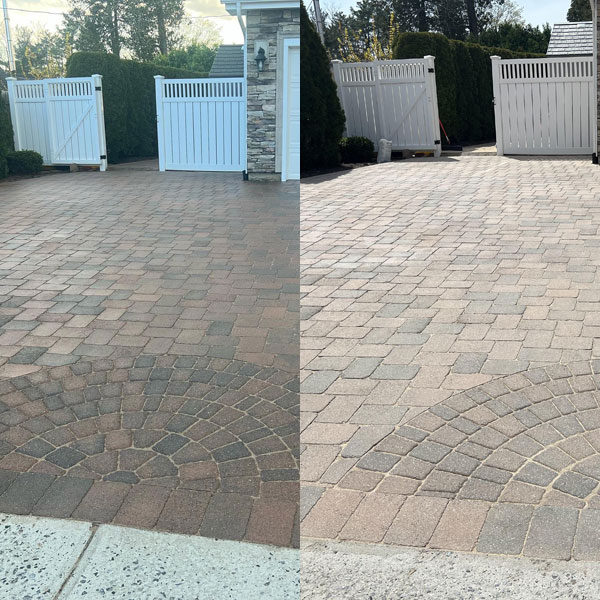 The materials used to make pavers are somewhat porous. They look and feel solid to you, but to rainwater, snowmelt, and moisture from humidity, they're more than a bit absorbent. Without sealing, moisture can work its way down into the concrete or other material used and do a couple of things. One is it can potentially erode part of the paver if the moisture has a way out. In other words, if water seeps into a concrete paver and can seep out the other end, that can have a slight eroding effect over time, making the paver fragile. The other thing is that the moisture can freeze in winter, and as ice expands, the pavers crack. But if you have a paver sealer company add sealer, moisture won't get into the pavers. It will also be a lot easier to clean the pavers if you clean up spills and stains as soon as they occur.
When you need to find a paver sealing service, call That's a Wrap on Long Island, NY, and in Suffolk and Nassau counties. The best paver sealer is one that can get all the dirt off old pavers and then handle sealing from start to finish, and we can do all that and more. We'll clean the pavers and then seal them, helping you to keep your driveway and patio looking very good.
The Superior Paver Sealing Method:
The superior methods and processes at That's A Wrap follow follow the strict protocols from training with Trident sealing products. Trident products are offered for professional use in the pressure wash industry. For over 30 years, they have manufactured premium surface restoration and protection solutions.
We blow out all of the dirt, mold, and moss.
From the paver joint, we then treat for organics making sure we kill all strains of bacteria and mold.
We follow up with using a walk behind surface cleaner to keep the integrity of the pavers.
Once the patio is cleaned, we do a wet sand. Wet sanding is much more efficient and thorough method which ensures the joint quality is much better than dry sweeping sand.

Note: By using water to wash into the joints, it ensures that we remove sand all the way to the bottom, completely filling the joint properly. This technique takes much longer to do but the quality and product is far superior than any other method. Please contact us with any questions.